FRANCHISE GRAVEYARD: Trendy Franchise Concept Gets Cereality Check, Closes Store(s) By: Sean Kelly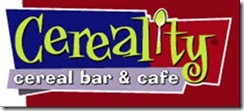 Originally published Wednesday, June 27, 2007 – 5:19 pm ET
March 28, 2006 the Northwestern University newspaper had exciting news:  The much heralded all-cereal cafe Cereality was expected to open by summer, 2006.  They interviewed Cereality co-founder David Roth about the opening of their second Chicago-area cereal cafe:
"We love Evanston because it has such a different type of cross section of people… It offers us that sort of urban pulse, but also a suburban marketplace as well…. We have an extraordinary amount of demand…. We're constantly inventing new ways to get cereal to people."
The suburban Chicago cafe would play a pivotal role in the chain's expansion:
The Evanston store will also be used to fulfill online orders and train new franchisees.
"It's not rocket science to instruct people to put cereal in a bowl," said Roth. "But it's an art to (successfully run a Cereality cafe). You bring people to your training facility and you instruct them on how to manage and operate a unit. Ours is going to be in Evanston. Evanston is going to play a very key role for us."
May 23, 2007 the Daily Northwestern story wasn't so Cheerio:
Just six months after it opened in downtown Evanston's Sherman Plaza, Cereality Cereal Bar and Cafe has closed its doors and moved out…. The store's contents were packed up after closing Monday night, according to Jonathan Perman, executive director of the Evanston Chamber of Commerce. On Tuesday afternoon, all food and equipment had been removed from the store's interior.
For a company that's been all over the media since the concept was launched in 2003, there seems to be scant information about what's going on with the company.  According to The Daily Northwestern:
Multiple calls to the company's downtown Chicago headquarters went unanswered Tuesday. Jim and Marc Klutznick, two of Sherman Plaza's developers, also did not return phone messages.
When the Evanston location opened in November, Cereality's president and CEO at the time, David Roth, expressed high hopes for the restaurant.
The company had planned to use the location as a training facility for employees at the company's other locations.
"We're very much looking forward to this store," Roth told The Daily in November. "This is just pregnant with possibilities."
Both Roth and fellow co-founder Rick Bacher resigned from the company at the end of April. Roth declined to comment Tuesday on the Evanston store's closing. The new CEO, John Fiorello, did not return multiple calls Tuesday night.
Unanswered Questions:
Why'd Roth & Bacher resign from their brainchild?  Who's Fiorello? 
Has the public rejected Cereality's "home away from home" where "every day is Saturday morning" in favor of their real homes where cereal doesn't cost $4 a bowl?
Is the rumor circulating on the Internet (ok, it's a single comment on one blog) true that the downtown Chicago location is also closing?
Was The Big Idea's Donny Deutsch's pronouncement that he LOVES the concept the kiss of death?
Is it a bad sign that in a "bazillion" news stories and interviews, the founders expound on the concept's cleverness and the brand resonance but never about store sales or unit economics?
Comments
By Mike
1143 days ago I'm thinking their Franchise requirements of: at least $212K total commitment, 25K$ franchise fee, $1 million assests requirement and 12-20 employeee requirement might be some of the reason.
c'mon – all THAT just to run a cereal cafe??
By Sean Kelly
Mike:
It's not like you can buy this stuff in a grocery store… Plus, they have a hollow plastic spoon that you can such the milk through. That must be worth $100K or so.
By Sean Kelly
Laila Fields bet her house that a Cereality cereal cafe franchise would be a hit in Santa Cruz.  FranchisePick.com readers are invited to bet on how soon she'll realize what a bad, bad bet she made. 
Place your vote on how long you think the Santa Cruz Cereality franchise will survive.
WHAT DO YOU THINK?  SHARE A COMMENT BELOW.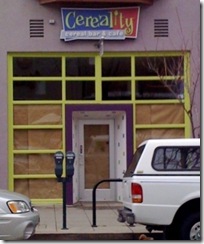 I love this.  This is genius. said Donny Deutsch, host of CNBC's "The Big Idea"
The latest fast-food concept is so simple… how can it fail?  said Jerry Shriver of USA Today
…the silliest, most self-indulgently bad idea to have ever graced the Franchise Graveyard… Even college kids who've spent the last five years in a haze of beer, smoke and liberal arts could see what a truly stupid idea Cereality is. said Sean Kelly, author of FranchisePick.com
Cereality franchise owner Laila Fields went with the first two experts in this one. 
According to the San Jose Mercury News,
Laila Valdez Fields is so sure her quirky new cereal cafe will be a hit, she bet the house on it.  Literally.  A real estate agent, she persuaded her husband, a chiropractor, to sell their home to invest in the restaurant business.
FranchisePick.com, which has warned potential franchisees about the unviability of the Cereality concept, started a Cereality Franchise Dead Pool to bet on how quickly Fields would close… and lose her and her husband's life savings.  The winner was Rob, who bet six months.
Cereality: Doomed idea sold to a clueless franchisee by an unscrupulous franchisor?
FranchisePick.com has steadily reported on the closings of Cereality cafe franchises and company stores since mid-2007.  The Evanston, IL Cereality flagship closed in less than 6 months.  A South Carolina franchise beat that with a record-setting failure in less than 3-months.  From locations on the PA Turnpike to JFK and Newark Airports to college locations at Penn State, University of Pennsylvania and Arizona to the Chicago Loop, every stand-alone Cereality location has failed and closed prematurely.
Yet multi-concept franchisor Kahala Cold Stone (also the franchisor of Cold Stone Creamery and others) seemingly had no problem collecting a franchise fee from Laila Valdez Fields and encouraging her to gamble her future on a losing bet.
And some franchise broker or sales person had no problem collecting a commission on what they must have known was going to be a tragic outcome for Fields.
And yet, can you really feel sorry for this franchisee?  Was it laziness that kept her from finding out about these earlier failures?  Was it self-delusion, or arrogance, that made her sure she would succeed where others (including the franchisor) had repeatedly failed?
Let's face it, in the capitalist society of America, franchisors have the freedom to sell doomed, ill-conceived franchise concepts.
Clueless franchisees like Laila Valdez Fields have the freedom to buy them.
When you consider that bad decisions like this are often backed by taxpayer-funded SBA loans, it's tough to have sympathy for either side.
WHAT DO YOU THINK?  SHARE A COMMENT BELOW.
Photo credit:  More Madonna, Less Jesus blog.  Used by permission