The Franchise Lie is the franchise industry-wide deception created with bogus statistics and fictional "research" to lull would-be opportunity seekers into a false sense of security.
Promoters of The Franchise Lie, like convicted sex offender Greg Cantrell (CEO of 1-800-DRYCARPET) and franchise consultant Jack McBirney (Owner of McGrow Franchise Consulting), quote imaginary research they attribute to the U.S. Department of Commerce that states that buying a franchise is nearly a risk-free investment, vs. starting an independent business, which is a much higher-risk proposition.
These bogus franchise statistics have been discredited for more than a decade, yet they can still be found on hundreds of franchise websites, in franchise marketing brochures, and in news articles.
Despite the fact that the International Franchise Association (IFA) has publicly renounced the use of such bogus statistics, its members (including former member Gregory Cantrell and his 1-800-DRYCLEAN and current IFA supplier McGrow Consulting) continue to spread The Franchise Lie without consequence.
Gregory Cantrell Spreads The Franchise Success Lie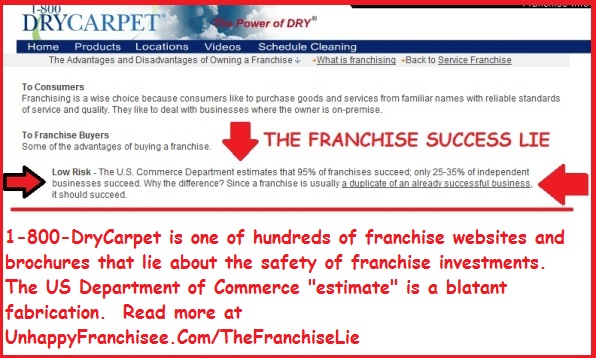 The franchise website of Greg Cantrell promotes his 1-800-DRYCARPET franchise using The Franchise Success Lie, stating:
Low Risk:  The U.S. Department of Commerce estimates that 95% of franchises succeed;  only 25% – 35% of independent businesses succeed.  Why the difference?  Since a franchise is usually a duplicate of an already successful business, it should succeed.
Not only is this claim, which is fraudulently attributed to the U.S. Department of Commerce, bogus, real studies have shown the opposite to be true.  Because franchise systems themselves often fail, they drag the franchisees down with them.
The irony in this case is that the 1-800-DRYCARPET franchise seems to be abandoned while CEO Cantrell serves 3 years in prison for raping a 12-year old female relative (Read:  GREG CANTRELL Franchise CEO, Sex Offender)
Jack McBirney McGrow Consulting Spread The Franchise Lie
Where did sex offender Greg Cantrell get The Franchise Lie statistic?
He cites long-time franchise consultant Jack McBirney, owner of McGrow Franchise Consulting.

And sure-enough, the McGrow franchise consulting website proudly displays The Franchise Lie, inducing both would-be franchisors and would-be franchisees to make the largest investments of their lives based on the blatant lie that franchise opportunities are nearly risk-free investments that hardly ever go wrong.
UnhappyFranchisee.com is on a mission to expose and eradicate The Franchise Lie.
Have you been told The Franchise Lie?  Who told it to you?  Please leave a comment below!
_
Gregory Erik Cantrell is Founder and CEO of 1-800 DRYCARPET, and a member of the IFA (International Franchise Association).
He is also a sex offender who pleaded guilty to repeatedly molesting a 12-year-old female relative, then tried to get his own sweetheart plea deal reduced.
(UnhappyFranchisee.Com)  Gregory Erik Cantrell pleaded guilty in November 2010 to three counts of committing lewd acts upon a child under 14.
He signed a written form entitled "ADVISEMENT AND WAIVER OF RIGHTS FOR A FELONY GUILTY PLEA," initialing a paragraph providing he understood the form and discussed it with counsel.
Defendant initialed other paragraphs reflecting the plea agreement's basic terms. One paragraph provided he understood the charged offenses carried a possible penalty of 12 years in state prison. Another paragraph provided he understood the court would "[c]onsider [his] application for probation," but might "deny [his] application for probation and sentence [him] to state prison for a maximum period of 3 years…"
Despite signing a plea agreement that waived his right of appeal, he tried to appeal anyway.  The appeal was denied.  He is currently serving the remainder of his 3-year sentence.
According to a story in the OC Weekly:
In December 2003, Orange County businessman Gregory Erik Cantrell repeatedly molested a 12-year-old female relative, but the crimes went undiscovered for four years.

Cantrell was charged and convicted of domestic violence in 2006–winning two days in jail and probation.

The following year prosecutors at the Orange County District Attorney's office learned of the molestations and filed three felony sex crime charges, according to court records.

In 2010, the Newport Beach resident pleaded guilty in exchange for a sweetheart deal and in 2011 Superior Court Judge Daniel B. McNerney sent him to prison.

But the molester–who owns a federal trademark, The Power of Dry, for a carpet cleaning product–wasn't happy with his plea bargain. He hired William J. Kopeny, one of California's best appellate lawyers, to overturn his punishment. His point? He believes he should have been given probation and not a single day of incarceration.

For Justice Raymond Ikola at the California Court of Appeal based in Santa Ana the decision on the complaint was simple: no…

Upshot: Cantrell, 49, will remain locked inside La Palma Correctional Center in Eloy, Arizona for the remainder of his sentence.

He also must list himself as a sex offender for the rest of his life.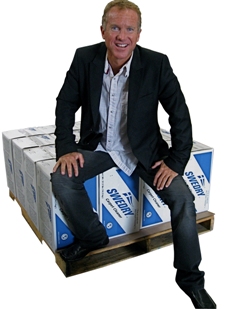 Greg Cantrell's 1-800-DryCarpet franchise website still pitches his franchise opportunity, and features the bogus franchise success statistics that UnhappyFranchisee.Com has dubbed The Franchise Lie.
Another Orange County, CA franchise salesman made news earlier this year when Stratus Building Solutions' Shazer Fernando Limas was charged with the brutal murder of his girlfriend and their two young boys.
Read the sad story here:  Shazer Fernando Limas: The "Killer" Franchise Salesman of Stratus Building Solutions.
ARE YOU A 1-800-DRYCARPET FRANCHISE OWNER? 
ARE YOU FAMILIAR WITH GREG CANTRELL aka GREGORY ERIK CANTRELL? 
PLEASE SHARE A COMMENT BELOW.